If you work or go to school, chances are that the time between your alarm and you pulling away in your car are filled with stress, hustle, and a coffee-deprived haze. But regardless of your morning rush, you need to fit in some time for food – some sustenance, not only to kick-start your motor but to halt muscle loss and fuel your energy stores for the day.
Sadly, we don't all have time to cobble together some four-course meal. What you need is a quick, protein-and carb-rich option that's easy to prepare and even easier to take with you (if need be), and a bowl of cereal just isn't going to cut it.
This seven-day menu offers some solid recipes that will help you keep and add muscle, and provide you with plenty of energy for whatever the day may hold.
Berry Blast Super Shake
Sometimes, a decent smoothie is all you need. A great substitute for hot food, a protein shake containing 50 grams of whey protein, with the fiber-and-antioxidant benefits from berries, offers a breakfast that is both convenient and nutritionally sound.
How to:
2 scoops of vanilla whey protein powder
1 cup blueberries (fresh or frozen with no syrup)
1 cup strawberries (fresh or frozen with no syrup)
1 tablespoons ground flaxseed
16-24 oz. crushed ice
Nutritional Information: Calories: 423 | Protein: 50 g | Carbohydrates: 39 g | Fat: 7.5 | Fiber: 10
Related article: Shed The Excess Weight From Your Belly With These 3 Simple Tips
Piña Colada
Another blender-based option that you can tote along with you on your commute, this protein-heavy recipe is also calorically-dense. With a high dose of healthy fat, this recipe is ideal for those who may not have time to get in a snack before lunch, because it will keep you fuller longer.
How to:
2 scoops vanilla whey protein powder
8 oz. crushed pineapple
6 oz. fresh squeezed orange juice
2 tbsp extra virgin coconut oil or shredded coconut
16 oz. crushed ice
Nutritional Information: Calories: 652 | Protein: 41 g | Carbohydrates: 50 g | Fat: 32 | Fiber: 2
Related article: Burn Fat Or Build Muscle? This One Total-Body Workout Can Be Completed 2 Ways
Chocolate Peanut Butter Yogurt
Super shakes and yogurt mixtures are a fast and effective way to get a ton of nutrients in with no cooking. They also can curb that sweet tooth you may be having if you're lower on calories and carbohydrates. Another bonus with super shakes is that you can toss in a ton of nutrient add-ons.
How to:
1 scoop chocolate whey protein powder
1 cup low-fat Greek yogurt
1 banana
2 tablespoons all natural peanut butter
16-24 oz. crushed ice
Nutritional Information: Calories: 658 | Protein: 63 g | Carbohydrates: 55 g | Fat: 21 g | Fiber: 7 g
Related article: Ditch These 6 Foods And Drink Options Before Your Workout So They Don't Derail Your Gains
Scrambled Eggs
Plain scrambled eggs can get pretty boring and tasteless. This simple egg scramble not only spices things up, but also adds some great phytonutrients form the vegetables, and is low in carbs for those looking to reduce body fat.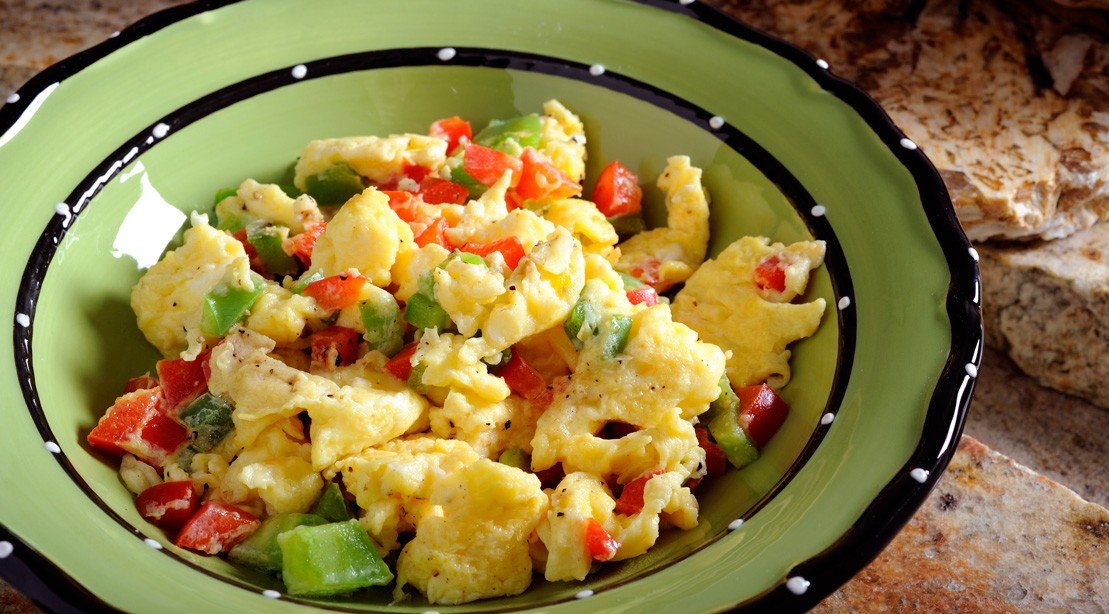 How to:
4 organic egg whites
4 whole eggs
1 large garlic clove, minced
1 tablespoon chopped fresh oregano
1 red bell pepper, diced
½ small white onion, diced
1-tablespoon extra virgin olive oil
Sea salt and fresh ground black pepper to taste
1 tbsp cheddar cheese
Instructions: Whisk eggs and herbs in medium bowl. Stir in peppers and onion. Lightly coat a medium skillet with olive oil and place over medium heat. Pour egg mixture into skillet. Add garlic, oregano, salt, and peppers; scramble until cooked. Sprinkle with cheddar cheese.
Nutritional Information: Calories: 497 | Protein: 41 g | Carbohydrates: 18 g | Fat: 29 g | Fiber: 3 g
Related article: How to Make Great Tasting Protein Flapjacks
No Cook Oatmeal
If you're pressed for time and don't want to cook your oatmeal, no problem. Instead of opting for instant oatmeal that can have added fillers and sugars, stick to the good stuff and just don't cook it! Simply throw all of the ingredients into a Tupperware dish, put it in the fridge overnight, and grab in the morning when you're on the go.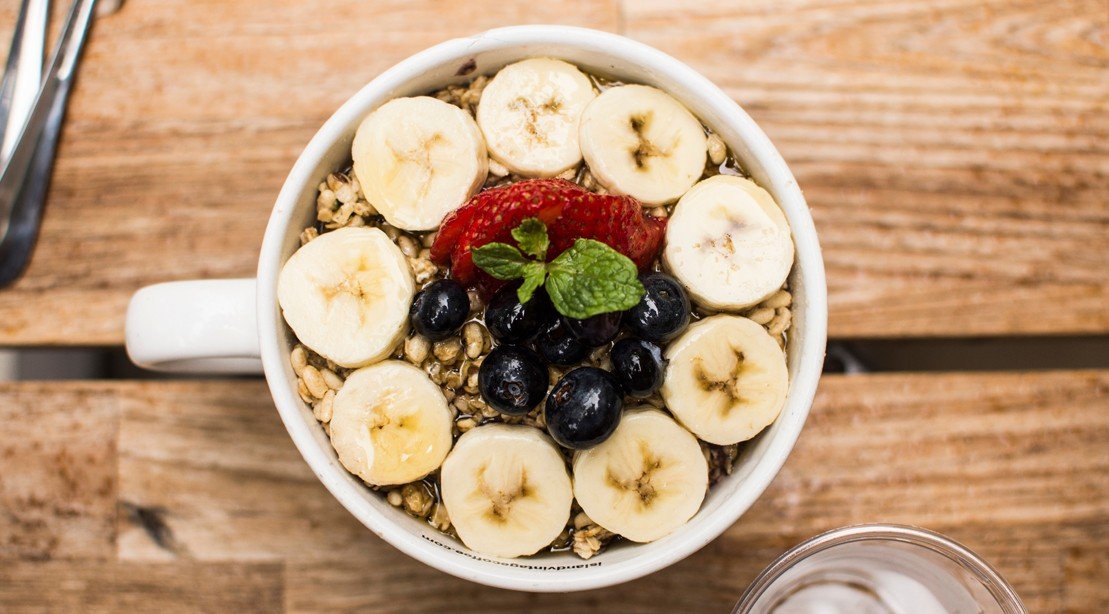 How to:
½ cup thick old-fashioned rolled oats
1 ½ scoops whey protein
1 ½ tbsp. frozen berries
1 tbsp slivered almonds
1 tbsp ground flax seeds
1 tbsp ground chia seeds
½ cup organic skim milk
1 dash ground cinnamon
Instructions: Place all ingredients in a small bowl with lid. Let stand in refrigerator overnight or for 10 minutes prior to eating. No cooking required. Fast, easy, healthy, and tastes great.
Nutritional Information: Calories: 617 | Protein: 50 g | Carbohydrates: 48 g | Fat: 25 g | Fiber: 14 g
Related article: Delicious Healthy Breakfast Foods for Weight Loss
Pumpkin Pie Oatmeal
Our focus here is on convenience and nutrient maximization but if you happen to have some extra time – maybe on the weekend – and want to make some "gourmet" oatmeal, this is the perfect breakfast. It has the perfect balance of protein, carbs, and fat, and is sure to satisfy your hunger.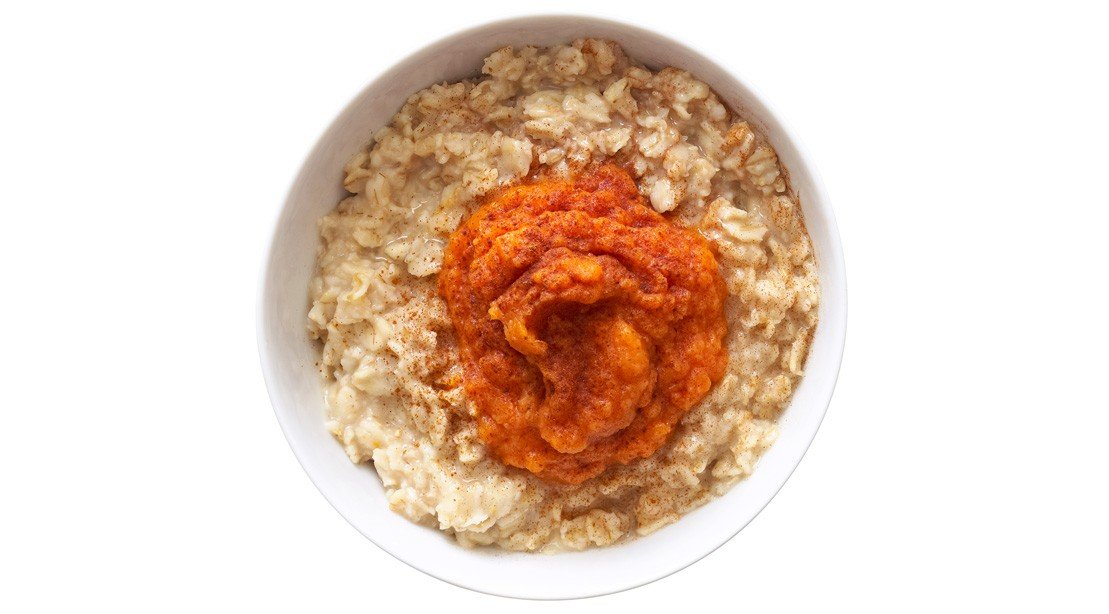 How to:
½ cup low fat milk
¾ cup water
½ cup old fashioned large flake oats
1 pinch cinnamon
1 pinch nutmeg
¼ cup canned pumpkin
¼ cup sliced almonds
Stevia, to taste
¼ cup water
1 scoop vanilla whey protein (equal to 25 g protein)
Instructions:
In a small pot, bring milk and water to a boil over medium heat. Add the oats, cinnamon and nutmeg. Reduce heat to medium – low and simmer until liquid is absorbed (approximately 7-10 minutes), stirring occasionally. Once liquid is absorbed, stir in pumpkin, almonds, and Stevia and set aside.
Combine ¼ cup of water with whey protein in a separate bowl. Mix with a fork until protein is dissolved. For a smoother consistency, mix powder with water in a blender or food processor and blend until protein is dissolved. Pour protein mixture over oatmeal and serve. Makes one large or two small portions.
Nutritional Information: Calories: 575 | Protein: 42 g | Carbohydrates: 51 g | Fat: 23 g | Fiber: 12 g 
Related article: Can't Seem To Tone Up Your Muscles? Here Are The 7 Reasons Why
Rancher's Omelette
This is super high protein omelet is perfect for those looking to add lean muscle without the added body fat. This palate-pleaser is low in carbs and loaded with protein. If you're dieting, it will feel like you're cheating.
How to:
3 oz. turkey sausage (85 g)
Olive oil cooking spray
¼ cup red pepper (small diced)
¼ cup onion (small diced)
¼ cup Tomato (small diced)
1 tsp garlic (minced)
6 large egg whites
3 whole eggs
¼ tsp salt
1 pinch pepper
1 oz. light Havarti cheese (sliced, 28 g)
¼ cup salsa
Instructions:
Cook turkey sausage and then dice it. Preheat a large non-stick frying pan on medium heat. Lightly coat with spray. Add red pepper and onion. Sauté until onions are lightly browned, stirring frequently. Add cooked sausage, tomato and garlic and sauté for one minute more. Remove from pan and set aside. Whisk egg whites, eggs, salt and pepper together in mixing bowl.
Re-spray pan in needed and pour egg mixture into the pan. Cook until the top of the mixture begins to bubble and the bottom is golden brown. Flip the omelette and cook until the other side is golden brown. Transfer omelet to a plate. Place Havarti cheese onto one half of the omelette and the vegetable and sausage mixture on top of the cheese.
Fold the omelette over to cover contents. Garnish with salsa and serve. Makes one large or two small servings.
Nutritional Information: Calories: 552 | Protein: 63 g | Carbohydrates: 17 g | Fat: 26 g | Fiber: 4 g