Getting a strong, sleek midsection takes the right mix of ab workouts for women that work together to tone the entire area. The resulting super workout crafted includes ab workouts for women that scored off the charts for firming the most muscle fibres per rep.
Instead of cranking out dozens of sit-ups, we're about to make-under your ab routine. For the first two weeks, do two to three circuits of the first four moves; together they hit all four ab muscle groups.
You'll reach your goal faster if your workout builds on the intensity and total reps done over time. These moves get a little harder and the reps get higher for week three, plus there's an exercise added in. Same for week four, except this time you'll add two more moves to your session. By that week, expect two to three circuits of seven moves with the max challenge and reps.
But regardless of how tight your core is, they can't erase fat that lies above (subcutaneous) or below them (visceral fat). Those you'll have to tackle separately. Maximum-effort cardio intervals raise your level of adrenaline, the fight-or-flight hormone that's the secret sauce to burning fat.
Do the toning moves ahead in order for the indicated number of reps and sets three days a week on alternate days. Pay close attention to how the exercises and weight of the dumbbells required progress each week. In week four, when the abs routine is most challenging, do it just twice a week.
1. Bodyweight Single-Leg Stretch: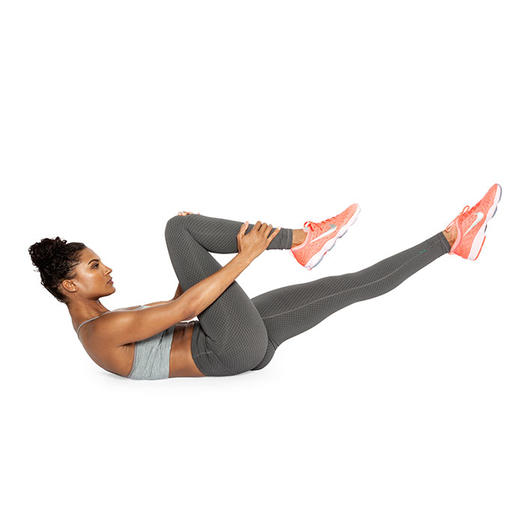 How to:
Lie face-up on the floor with arms by sides.
Curl head and shoulders off the floor, then raise extended arms and legs at a 45-degree angle to start.
Keeping upper body lifted throughout, bring right knee toward chest and reach right hand outside of the right ankle and left hand inside of the right knee.
Switch sides and repeat to complete 1 rep.
Sets: 2 to 3 Reps: 8 to 10
Related article: 4 Exercises for Toning Your Entire Body In Minutes And Achieve Your Best Butt And Body Ever
2. Forearm Spider Plank:
How to:
Start on floor in forearm plank position, body balancing on forearms and toes, palms flat.
Keep hips level and bend right knee out to side toward right triceps.
Return to plank.
Switch sides and repeat to complete 1 rep.
Sets: 2 to 3 Reps: 8 to 10
Related article: Lose Weight This Month With Our 30-Day Slim-Down Challenge
3. Balance Chop:
How to:
Stand with feet wide and hold a single 8-pound dumbbell with both hands overhead, arms extended.
Shift body weight to left leg as you pivot on the right foot and rotate torso to left (reaching even higher with dumbbell).
Then bring the dumbbell down beside the right hip as you raise bent right knee to hip level.
Reverse motion, returning to reaching upward toward left, to complete 1 rep.
Sets: 2 to 3 Reps: 8 to 10
Related article: The Eight Moves Sexy Back Workout To Banish Bra Bulge Back Pain And Bad Posture
4. Sit-Back Twist:
How to:
Holding a single 5-pound dumbbell with both hands, sit on the floor with knees bent, heels on the floor.
Lean torso back 45 degrees and extend arms forward at 45-degrees to start.
Rotate torso to the right as you lower dumbbell with straight arms toward floor by right hip.
Return to start position and repeat to the left to complete 1 rep.
Sets: 1 Reps: 8 to 10
Related article: The Best 20-Minute Bodyweight Workout for Weight Loss And Shaping
5. Double-Leg Stretch:
How to:
Lie face-up on the floor with arms by sides.
Curl head and shoulders off the floor, then raise arms overhead (biceps by ears) and legs up at a 45-degree angle to start.
Keeping upper body lifted throughout, bring knees toward chest and circle arms around, touching palms to outside of knees.
Extend legs and raise arms overhead to start position to complete 1 rep.
Sets: 2 to 3 Reps: 10 to 12
Related article: 15 The Best Abs Obliques Core Exercises For A Slender Waist
6. Spider Plank:
How to:
Start on floor in plank position, body balancing on hands and toes.
Keep hips level and bend left knee out to side toward left triceps.
Return to plank, switch sides and repeat to complete 1 rep.
Sets: 2 to 3 Reps: 10 to 12
Related article: 5 Effective Resistance Band Exercises For A Strong, Firm Butt That Will Make You Look And Feel Amazing
7. Half Boat: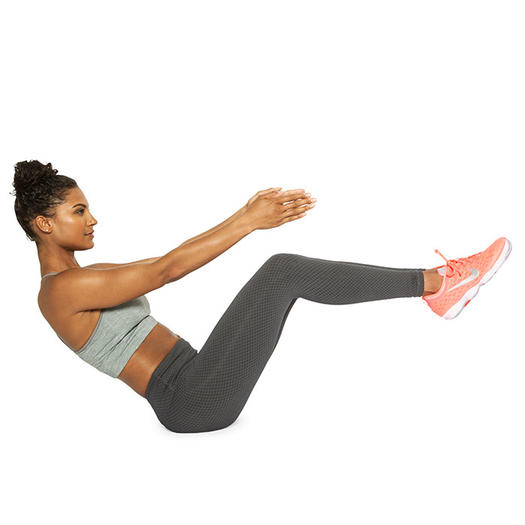 How to:
Sit on the floor with knees bent, feet flat and palms together in front of chest (prayer position).
Lean back 45 degrees, extend arms forward and lift legs with knees bent 90 degrees (balance on tailbone) to start.
Slowly lower body until middle and lower back are on the floor (head, shoulders, and legs remain lifted).
Slowly return to start position to complete 1 rep.
Sets: 2 to 3 Reps: 10 to 12
Related article: These 8 Moves Shrink Your Waist, Sculpt Your Shoulders And Lift Your Butt For Enviable Curves For A Sexy Hourglass Figure
8. Side Plank with Twist: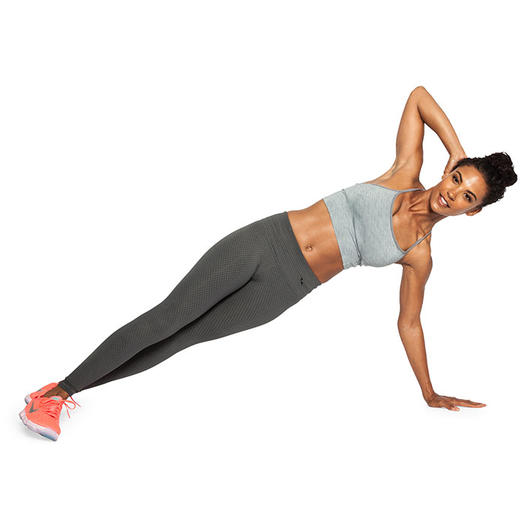 How to:
Start on floor in side plank position, body balancing on left palm and sides of feet, right foot staggered in front of left; bend right elbow and place palm behind the ear to start.
Rotate the torso to bring the right elbow up to touch the inside of the left elbow.
Reverse motion back to start position to complete 1 rep.
Do 12 reps.
Switch sides; repeat.
Sets: 2 to 3 Reps: 12 per side
Related article:  Feel The Burn And Watch The Change In Your Glutes With The 20-Minute Leg And Butt Workout
9. Quarter Squat Crunch
How to:
Stand with feet hip-width apart, elbows bent out to sides, and fingertips behind ears.
Squat slightly (bend knees about 45 degrees, and avoiding these 6 common squat mistakes) to start, then shift weight to left leg as you stand, lifting the bent right knee and rotating torso toward right so left elbow and right knee meet in front of the chest.
Return to start position, switch sides, and repeat to complete 1 rep.
Sets: 2 to 3 Reps: 12