While you make sure to get those workouts in, we'll help make sure that you stay well-nourished. It turns out that a mix of protein and carbohydrates makes the perfect post-workout snack. You want to aim for a 4:1 ratio of carbs to protein, which is 30 to 40 grams of carbs with 10 to 15 grams of protein.
Eating foods with this combination of nutrients shortly after a workout will restore your energy and assist in muscle recovery and repair. With that in mind, here are five post-workout foods to keep on hand all year long. Because keeping exercise delicious means you'll stick with it longer. Trust us.
Greek Yogurt and Berries: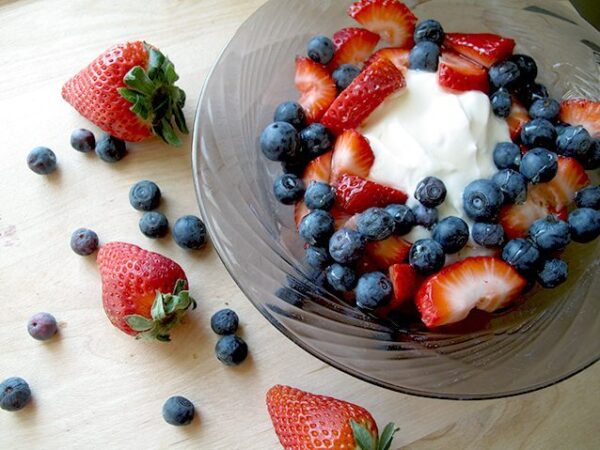 Why?
A serving of Greek-style yogurt, which is packed with protein, and fresh berries is great post-workout food, so long as you buy the plain kind. You can splurge with Greek Yogurt & Berries, but be sure to skip the pre-flavored kind or you'll be packing in way too much sugar.
Related article: Eggs Are A Fantastic Protein-Packed Food & Here Are 6 Egg Recipes To Try
Hard-Boiled Egg on Whole Grain Toast:
Why?
Toast a slice of your favorite whole grain bread, peel a hard-boiled egg, and you have an excellent savory, post-workout snack. I eat hard boil eggs for a week every Sunday so that I always have them on hand for this grab-and-go mini-meal. Two quick-add ingredients amp up the flavor big time.
Related article: 13 Fruits to Eat for Weight Loss
Chocolate Milk:
Calling all chocolate lovers! Drinking a glass of chocolate milk after a workout is really good for you. It contains the ideal carbohydrate to protein ratio of 4:1 with around eight grams of protein. Buy ready-made reduced-fat chocolate milk or make your own.
Ingredients
1 tablespoon (5g) cocoa powder
1 tablespoon water
1 cup milk
1 tablespoon sugar
Instructions
In a microwave-safe cup or mug, combine cocoa powder and water.
Microwave for 15 to 20 seconds, until steaming, and stir until very smooth.
Add 1/4 cup of the milk and the sugar, and microwave for an additional 15 to 30 seconds, until steaming.
Stir until completely mixed. Stir in remaining milk and enjoy.
Related article: Drinking Water Is Critical, But Why Not Eat Your H2O? Here's 10 Top Fruits
Apple with Almonds:
Why?
The combination of apple, a high fiber fruit, and nuts is a great post-workout snack that will give you an energy boost after a hard workout. I also love that it's an easy grab-and-go snack that you can prep ahead of time.
In fact, I keep a container of sliced apples in my fridge ready to go — just give them a squeeze of lemon juice to avoid browning. If you can, choose raw almonds instead of roasted salted ones so that so you're not also adding more fat and sodium.
Related article: Skip The Cake Cookies & Candy! Enjoy These 7 Top Fruits & Lose Weight
Peanut Butter and Banana Smoothie:
For those who put in a hard workout first thing in the morning, a protein-packed smoothie makes the best breakfast after that killer spin class. This Peanut Butter and Banana Smoothie calls for only four ingredients and will keep you full all morning, which is exactly what you need after expending tons of energy.
If you have allergies, you can easily substitute almond butter or SunButter for the peanut butter — easy breezy.
Ingredients
1 scoop of protein powder
1 1/2 almond milk plain
1 banana frozen, sliced
peanut butter
Instructions
Add all ingredients in a blender and pulse until smooth. Add ice for a thicker smoothie.