Nope, it isn't just for the schoolyard. Jumping rope can be a workout powerhouse since it helps maintain—and improve—your cardiovascular fitness while strengthening your muscles to help reduce injury risk.
If you want an example of the crazy, topsy-turvy world we live in, consider the jump rope, the preserve of boxers and small girls. A skipping workout is a cardio and toning essential that'll boost your gains double-quick.
It may look simple, but, when used in the right way, it can provide a full-body cardio and strength session that targets your biceps, triceps, deltoids, and chest, as well as toning your thighs, hips, and glutes.
Do each movement for 30 seconds, followed by a 30-second break. Repeat each movement six times before moving on to the next.
1. Hopping Skip:
How to:
Engage your core and hold a handle of the rope in each hand.
Keep your hands out to the side, elbows tucked in.
Swing the rope above your head and hop over it on your right foot.
With each arc of the rope, switch feet so you land on a different foot each time.
Related article: What Moves Burns The Most Belly Fat & Love Handles? 6 Moves In This Workout Do!
2. Classic Skip: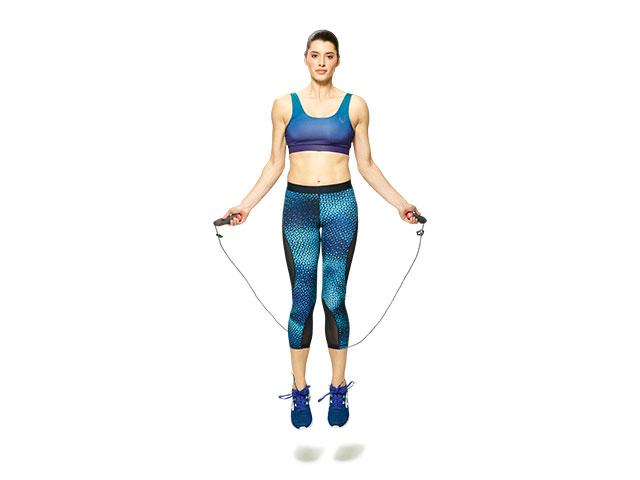 How to:
So, engage your core and swing the rope over your head.
But this time, jump over it with both feet instead of hopping. In other words, your classic skip.
Steadily increase the speed at which the rope swings, then, when your heart is pumping, add in a second jump as it passes over your head.
Now, catch your breath.
Related article: Get Healthy With This 30 Day Bodyweight Weight Loss Challenge
3. Side-To-Side Skip:
How to:
Holding the rope, begin with your hands together at one side of your body.
Moving your hands in a figure of eight motion across your torso, swing the rope so that the midpoint reaches above your head before hitting the floor at the opposite side of your body.
Repeat this motion four times.
On the fifth swing, separate your hands so they are at each side of your body in classic skipping position, skip over the rope, then return to the start and repeat.
Don't forget that core.
Related article: Can I Burn Fat In 30 Minutes? With These 12 Moves You'll Be Slim In Next To No Time
4. High Knee Skip:
How to:
Start with hands on either side of your body ready to swing the rope over your head.
Now, instead of jumping over the rope, alternate high knee hops.
Related article: Both Swimming And Running Are Known To Be Good For Weight Loss, But Which Is The Best?
5. Crossover Skip:
How to:
Start in the classic skipping position with your core engaged.
Begin to do your first skip, but, as the rope swings above your head, cross your hands over your torso.
As you do your second skip, uncross your arms to return to the classic position.
Then do it all over again, alternating with each jump.