Try this quick and effective body-weight high-intensity interval training routine, whenever you are short on time but want a great workout with no equipment needed. Dynamic body-weight exercises help develop functional strength and recruit more muscles to perform the movement compared with an exercise like a bicep curl.
Set an interval timer  for 30 seconds of work and 20 seconds of recovery. After you're warmed up, start with one set of each of the exercises listed below, then work your way up to completing 3–4 rounds of the entire sequence.
This is a great way to gain incredible health benefits in a short period of time. Complete each interval at your intensity, pace and best effort. High intensity does not need to be high-impact, so always listen to your body, and do the best workout for you.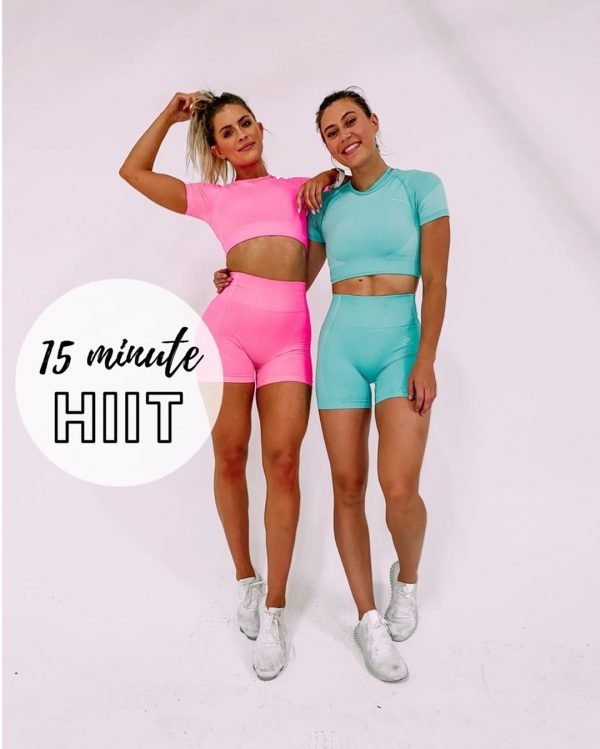 To be clear, complete the above circuit for a total of three rounds. You should do the rounds without stopping (the only rest you should take is the 20 seconds after each exercise). In about 15 minutes, you'll be done. Don't forget to cool down and stretch afterwards!
Warm-up:
Start by warming up with rehearsal moves that mimic your workout. Try this warm-up before you get started: The Best 5-Minute Warm-Up To Do Before A Strength Workout
HIIT Workout:
Perform each exercise for 30 seconds, then rest for 20 seconds. Once you've completed all five moves, repeat everything again two more times.
Squat with hip rotation:
30 seconds followed by 20 seconds of rest
How to:
Start in a squat position..
Push up into a standing position.
From here twist your hips, elbows pushed out for balance.
Drop down into squat position.
Then repeat but twisting to thew other side.
Related article: Sculpt Your Body With This 7 Minute Cardio Fat Burning Sizzling Workout
Alternating drop lunges:
30 seconds followed by 20 seconds of rest
How to:
Stand tall with feet together and your arms in front of you.
Step your left foot forward and to the right, bending your knee 90 degrees while keeping your shin straight.
Your right leg should be stretched behind you.
Return to starting position.
Alternate using the other leg.
Related article: 4 Fat Blasting Cardio Workouts To Achieve A Lean Toned Body
4 mountain climbers to sit back:
30 seconds followed by 20 seconds of rest
How to:
Drop into a top press-up position, supporting your weight on your hands and toes, with your arms straight and your legs extended.
Keeping your core braced and your shoulders, hips and feet in a straight line throughout, bring one knee towards your chest, then return it to the starting position.
Repeat the movement with your other leg, then continue alternating legs throughout.
Related article: Seven Yoga Poses To Do Post-Workout For An Even Better Workout
Low skater lunges:
30 seconds followed by 20 seconds of rest
How to:
From a standing position with feet shoulder-width apart, slowly step your left leg back diagonally behind your right leg.
Lower into a lunge until your knee almost touches the floor.
Touch the floor with your opposite hand as you are bent down.
Return to standing and reverse the movement, stepping the right leg behind your left and lowering into the lunge.
Related article: Your Yoga Cool-Down Routine To Compliment Your Workout Efforts
High knees:
30 seconds followed by 20 seconds of rest
How to:
Stand with your feet hip-width apart.
Lift up your left knee to your chest.
Switch to lift your right knee to your chest.
Continue the movement, alternating legs and moving at a sprinting or running pace.