Your living room makes a convenient gym. There are no membership fees. There's just you and just enough floor space. But is a workout at home one that can get you in ripped-and-ready-for-the-world-without-a-shirt shape?
Without question. Home workouts become real sweat sessions when you turn off the television, crank some motivational tunes, and give it your all. No matter how much of a gym rat you are, there are a few moves you just hate doing.
Think: squat variations that burn more than you ever thought possible, tricep moves that make your arms feel like they're going to fall off, or sprint drills you genuinely think will cause you to pass out. And no one knows this feeling better than the people barking at you to churn out one more.
1. Triceps Step-Up
This movement strengthens and sculpts lean and toned abdominals, shoulders and triceps. It's important to keep your neck long and your core steady. Don't sacrifice form for speed.
How to:
Start in a high plank with your back straight and your core braced.
Maintaining your form, come down on your forearms, one forearm at a time.
From a forearm plank, move back up into a high plank, one arm at a time.
Repeat by alternating your leading arm.
To modify, do the movement from your knees instead of your toes.
Related article: Upper-Body Push Workout For Better Delts, Pecs And Triceps With This One Routine
2. Breakdance Thruster
While it's definitely one of the toughest moves, it's also considered one of the most fun. Breakdance thruster is a full-body movement that improves your range of motion, coordination and brain-body connection.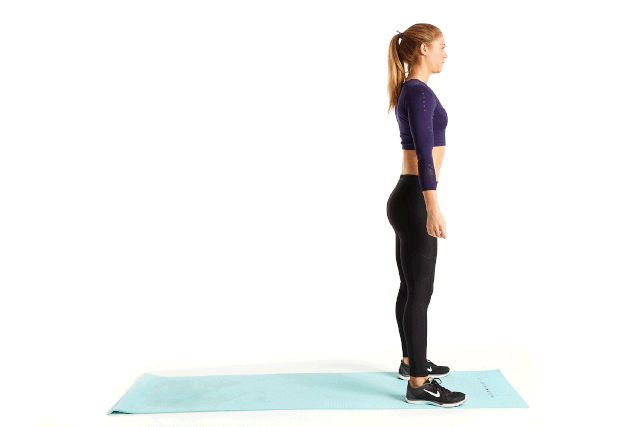 How to:
From standing, bend down, put your hands on the ground and jump your feet back to a plank.
Next, step your left foot out to the left and bring the right leg under your body while lifting up the left arm.
Then kick back to a plank and jump up to standing again.
Repeat on the other side.
To modify this movement, step one leg back at a time (instead of a full jump).
Related article: 8 Progressive Push-Up Variations To Create Your Best Ever Upper Body Shape
3. Pike Push-Up
This move might not look difficult, but it'll call on all of your focus and strength to complete. Pike push-ups are an upper-body exercise, giving you toned and sculpted shoulders.
How to:
Form an inverted V with your body, placing your hands on the ground and coming up on your toes.
From here, drive your head down toward the ground and bend your arms.
Then push back up to the inverted V.
Repeat on the other side.
Focus on your shoelaces to keep your neck in the correct position.
To modify, do the movement from your knees.
If you're feeling like an extra challenge, lift one of your legs up behind you.
Related article: 8 Exercises To Cinch Your Waist, Sculpt Your Shoulders, Lift Your Butt For A Sexy Hourglass Figure
4. Shoulder Series
The intent of this exercise is to warm-up for your shoulders, but as the heat builds, it becomes a challenging move. The shoulder series helps you develop stronger shoulders, which help frame the body making your waist look smaller. It's a five-part exercise with 30 seconds of each movement (two and half minutes total).
How to:
Start with shoulder circles forward and back.
Next, move your hands in front of you, creating a 90-degree angle with your elbows.
Bring your hands up so that your forearms are parallel to your body.
Advance by bringing your arms up from the bent goal post position directly overhead, touching your thumbs.
Next, extend your arms straight out at your sides and rotate your entire arm like you're wringing out your shoulder.
Lastly, extend both arms out straight and pull them toward the back of the room, repeating in pulses.
Related article: 7 Easy Comfortable Stretches To Relieve And Loosen Shoulder Tension And Aches
5. Fish Out of Water
This isolated ab exercise requires only a small range of motion but delivers big results. You'll build core strength while toning your obliques and transverse abdominal muscles.
How to:
Start on the floor on your side.
Extend your arm along the floor above your head and place your opposite hand on the floor (for balance).
Next, lift both your raised arm and both legs off the floor.
Lower back down and pulse.
Once done, repeat on your opposite side.
To modify, bend your bottom arm so that your hand supports your head and bend the knee of your bottom leg (putting your leg behind you) for added support.
Related article: Gain Total-Body Strength With These 17 Push-Up Variations
6. Hindu Push-Up
Another movement that will call on your focus and strength, the Hindu push-up works your chest and shoulders while building strength and range of motion.
How to:
Start in an inverted V — hands on the ground, balancing on your toes.
From here, dive your head down toward the ground, and then swing your head through between your arms with your body following, moving into upward facing dog.
From here, push your body back into the inverted V position and repeat.
To modify, do this movement from your knees.
Related article: Pumped Up Pilates Exercises Takes The Abs-Tightening Technique And Transforms It Into A Total-Body Lean Routine
7. Split Jump
This plyometric move works your glutes and builds explosive power. It'll challenge you, and It'll burn so good.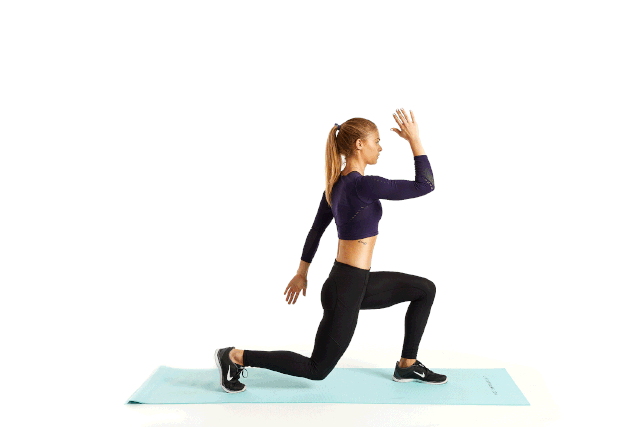 How to:
Step into a lunge so that your back knee almost "kisses" the ground.
Just as you reach this point, jump up and switch legs in mid-air so that you land with the opposite leg in front.
Repeat, switching legs with each jump.
You can use your arms to help jump you up and keep your balance.
But don't let your knee to go past toes in the lunge position and keep your chest upright.
To modify this movement, take out the jump and step back into the lunge.
Related article: Lose Weight This Month With Our 30-Day Slim-Down Challenge
8. Full Leg Circle
This movement tests your balance and improves your range of motion while engaging your glutes, abdominal and leg muscles.
How to:
Put your arms out to your sides for balance.
Stand on one leg and lift your other leg, bending at the knee.
From here, extend the bent leg straight out and then rotate this straight leg out, around and back behind you before finally bringing down to the ground and repeat.
Once done, repeat on the other side.
Related article: 9 Body Blasting Exercises Specifically Targeting Arms Abs And Legs Using Only Your Bodyweight
9. Circular Mountain Climber
You may have heard of mountain climbers, but this version takes it up a notch. Circular mountain climbers increase the range of motion in your lower body and help tone your quads and abdominal muscles.
How to:
Start in a high plank.
Take one foot and swing it out and around to the hand on that same side, getting as close to your hand as possible.
Next, swing the foot back to centre and immediately hop your other foot out and around to the hand on that same side.
Continue this back and forth motion.
To modify this move, remove the hop; just step your foot up toward your hand, and then step it back.
Related article: Inner Thigh Workout That Will Transform Tone And Shape Your Legs
10. Plank Jump Run
An overall kick-your-butt cardio exercise, plank jump run will get your heart rate up in no time, and the interval structure of the workout will keep you burning calories even after you're done working out.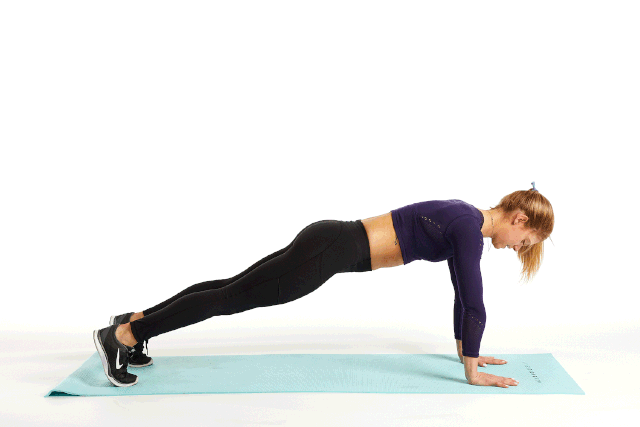 How to:
Start in a plank with arms and legs fully extended.
Next, jump both feet toward your hands and once they land, run them back until fully extended.
Now repeat.
To modify, do a small jump forward and walk the feet back.
Related article: Not Getting The Results You Want From The King Of Leg Exercises- The Squats? Here Are Some Likely Culprits!
11. Single-Leg Jump Squat
The movement is just like it sounds. The single-leg jump squat helps you develop explosive power while toning and strengthening your quads.
How to:
From standing, slightly lift one foot off the ground behind you, and then squat down to touch the ground in front of you.
From there, jump up, return to standing and repeat.
To modify, keep your back foot on the ground for balance and take out the jump.
Once done, repeat on the opposite leg.
Related article: 5 Squat And Lunge Variations That Seriously Tone Your Backside
12. Rain Dance Warrior
While it may not be the toughest move to execute, it's definitely one of the toughest moves to stick with until the end. We can practically guarantee you'll be raining sweat when it's done.
How to:
Extend both arms overhead, and then sink into a squat, keeping your chest upright.
From here, you jump and squat, jump and squat while turning your body in a circle.
Once you've done completed a circle, reverse the direction.
To modify this movement, remove the jump between squats.
Related article: The 2 Part 6 Exercise Ultimate Body-Weight HIIT Cardio Workout- Take Your Body To The Next Level
13. Tuck Jump Burpee
This exercise is the mother of all burpees. Tuck jump burpees are not for the faint of heart. It's a full-body movement that builds explosive power while torching calories.
How to:
Do a burpee by lowering your hands to the ground, kicking your feet out to a plank, and then perform a push-up.
Jump your feet back up to your hands and instead of standing up, do a tuck jump.
When you land, go back into the burpee and repeat.
To modify, step your legs out in the burpee and instead of a tuck jump, do a small hop and raise your arms.
Related article: 5 Quick And Easy HIIT Workouts For Training And Toning The Whole Body
14. Lateral Plank Pop
As if planking isn't challenging enough, take it up a notch again by adding in a "pop." This is a movement he has all of his top athletes doing, and it'll work your core, triceps and shoulders.
How to:
Start in a plank. With a slight pop in your hips and arms, jump your entire body to the right, and then back to the left while keeping a solid plank the entire time.
If you're really advanced, move your body in a box shape (forward, side, back, side).
Or to modify, from the plank, step your right hand and right leg out to the right, step them back, and then repeat on the left.